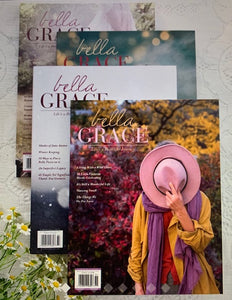 Give yourself something to look forward to with Bella Grace. 
Find ways for discovering magic in the ordinary through beautifully penned stories and striking photographs that capture life's beautiful journey.
Bella Grace makes the perfect gift for any special woman in your life, and it also provides an interactive, creative space — where readers can respond to prompts and fill in their own thoughts directly on the page and there are ABSOLUTELY NO ADVERTISEMENTS EVER!
No matter what issue you select, it is a timeless publication that is worthy of a space on your bookshelf to enjoy for years to come!