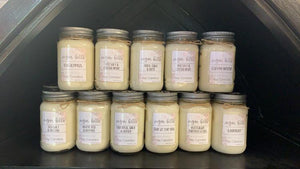 These handmade in USA candles come in a 16oz mason jar and have burn time of 50-60 hours with wick trimmed to 1/4" after each use.
Not crazy overpowering for those of us mermaids that like a nice scent and ambience without getting a headache from something overwhelming.
PS)n We offer 5% off next candle purchase with return of empty jar (in person sales) so we can recycle a good jar!